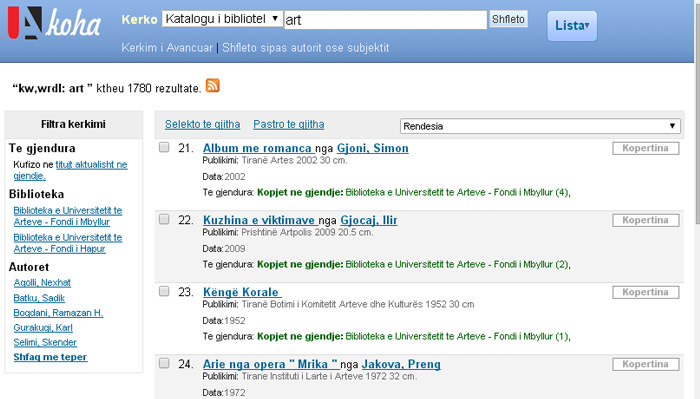 Koha is a software library automation package, distributed under the Free Software General Public License (GPL). As a full-featured Integrated Library Management System it comprises a relational database, software to interact with that database, and two graphical user interfaces (one for patrons, one for staff). Functions of modules include:

cataloging (classifying and indexing materials)
circulation (lending materials to patrons and receiving them back)
serials (tracking magazine and newspaper holdings)
the OPAC (public interface for users)
acquisitions (ordering, receiving, and invoicing materials)
authorities, flexible reporting, label printing, multi-format notices, etc.
It supports full-text searching and an enhanced catalogue display that can use content from Amazon, Google, LibraryThing, Open Library, and Syndetics, among others.
Koha is built using library standards and protocols such as MARC 21, UNIMARC, z39.50, SRU/SW, SIP2, SIP/NCIP, ensuring interoperability between Koha and other systems and technologies, while supporting existing workflows and tools.
Web-based Interfaces. Koha's OPAC, circ, management and self-checkout interfaces are all based on standards-compliant World Wide Web technologies–XHTML, CSS and Javascript–making Koha a truly platform-independent solution. In use worldwide, its development is steered by a growing community of users collaborating to achieve their technology goals.
In Albania KOHA was first developed and introduced at the Library of the University of Arts, followed shortly by the Library of the University of Sports, and a series of other Insitutions & Research Facilities
External Links